Contemporary Comfort in
the Heart of Cottage Country
L.E. Hotels
Create your own adventures at our picturesque, year-round resort. Indulge in seasonal activities: Whether you're a golfer or a swimmer, a wakeboarder or a snowboarder, there's something for everyone. Stay in shape in our fitness center, and reward yourself for a good workout at our full-service Shizen Spa. Tasty meals, snacks, beverages, and more are available at any of our four restaurants. Whether you bring your child or your pet, our selection of accommodations and amenities make for an unforgettable stay.
Address

1235 Deerhurst Drive,
Huntsville, Ontario,
Canada P1H 2E8

Space

425 rooms and suites, 45,000 sq ft of event space

Dining

Eclipse Dining Room, Compass Grill & Bar, Antler Steakhouse, and the Pub

Amenities

- Pet friendly
- Championship golf
- Shizen spa
- Year-round activities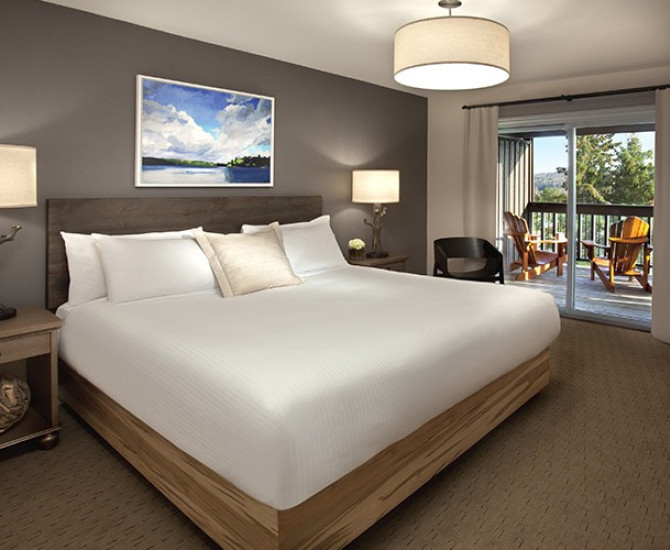 Fresh and Modern Muskoka Style
Accommodations
Whether it's a couple's getaway or a family vacation, Deerhurst Resort offers the best in contemporary comfort. Most of our singles, doubles, suites, and condos offer stunning lakeside views, and thoughtful amenities will enhance your Deerhurst experience.
Find Things To Do In Ontario, Canada
Things to do
The Nutty Chocolatier
Indulge in a tempting assortment of homemade fudge, handcrafted truffles, and other fine candies.
Treetop Trekking
Zip, climb, swing, and glide through a forest canopy.
The Fairy Vista Trail
This all-season trail meanders through wetlands, forests, and fields.
Casino Rama
The largest First Nations casino in Canada, including an entertainment complex for ticketed shows and concerts.
Barrie Molson Centre
A state-of-the-art, multipurpose center that is uniquely designed for comfort and convenience.
Lake Simcoe
Stroll barefoot, lounge on the beach, or join other anglers at this stunningly beautiful lake.