A Family-Run Luxury Hotel in the Heart of Venice
The Collection
The Beggiato family welcomes you to their 17th-century, fully renovated Hotel Concordia, overlooking San Piazza Marco in the heart of Venice. Enjoy 4-star luxury which blends modern conveniences with 18th-century-style furnishings, including original furniture and wooden sculptures common in aristocratic homes. View the St. Mark's Basilica while dining with us for breakfast or explore the wide variety of nearby shops, dining, and art galleries within walking distance.
Address

Calle Larga San Marco 367,
Venice, Italy 30124

Space

51 rooms and suites
20-1,000 sq ft event space

Dining

Hot and cold breakfast buffet, exclusive wine bar, aperitifs and snacks with St. Mark's Basilica as a background

Amenities

- Hot and cold breakfast buffet
- 24-hour room service
- 24-hour reception desk
- Pet-friendly rooms available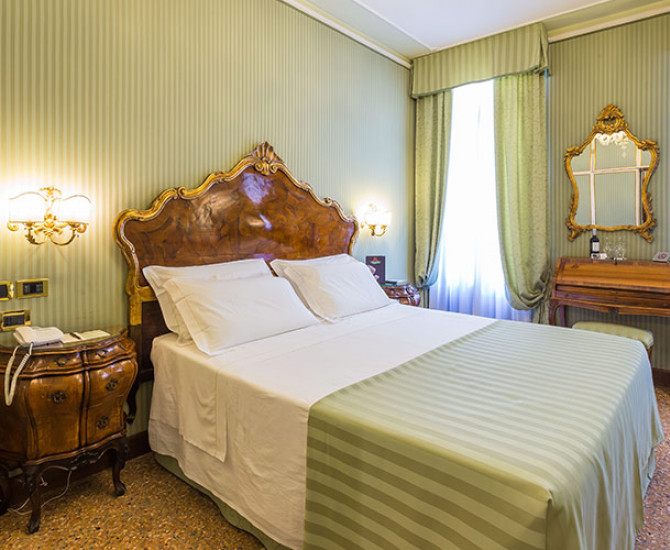 Stay in Old World Luxury with Modern Convenience
Accommodations
Our 4-star luxury hotel blends modern convenience with old world luxury. The Hotel Concordia comprises 51 unique rooms and 2 suites, most with stunning views of spires and mosaics of St. Mark's Basilica or Piazza San Marco. Each room contains antique furniture, Murano chandeliers and marble to echo the flair for Venetian luxury.
Exclusive Small Meeting Space
Meetings
2

Room

15

Capacity

< 1,000

sq ft event space
Amenities:
Complimentary Wi-Fi
Discounted parking
24-hour bar & lounge
On-site restaurant
Find Things To Do In Venice, Italy
Things to do
Murano Island
Located a mile north of Venice, Murano is renowned for its glass-making, dating back to 1291.
St. Mark's Basilica
Explore ancient treasures like a Byzantine gold retable, over 4,000 square meters of gold mosaics, and golden reliquaries in this former chapel of the Doges.
Doge's Palace
Immerse yourself in the ancient seat of the Venetian government with a tour through the Doge's apartment and an exhibition on the history of Venice accompanied by portraits from famous Venetians.