Neo-Baroque Chic in the Heart of Paris
The Collection
Welcome to Hotel Lumen — a sui generis getaway experience in the First Arrondissement. We are committed to making your stay delightful, with welcoming chocolates from Godiva, posh toiletries from Hermes, a Nespresso coffee machine in your room, elegant furnishings, and fabulous views. Lumen, our onsite restaurant, provides gourmet fusion fare, including a buffet breakfast, and libations served at the bar. The Louvre and other renowned attractions are within easy walking distance of the hotel.
Address

15, Rue des Pyramides 75001
Paris, France

Space

40 rooms and suites

Amenities

- Multilingual staff
- In-room Nespresso coffee
- Hermes toiletries
- 24-hour front desk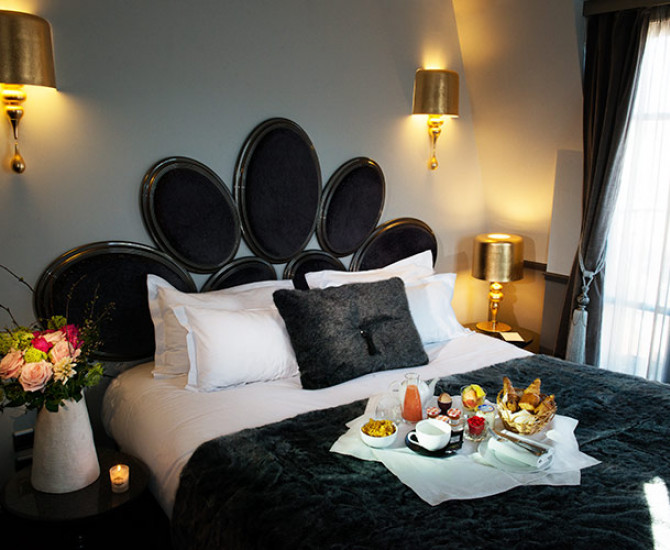 European Chic Meets Luxurious Comfort
Accommodations
Featuring Neo-Baroque décor, uniquely-designed Italian furniture, upscale amenities, and breathtaking views, all rooms and suites offer either a view of the neighborhood or a view of Saint-Roch Church. Our posh Jacuzzi Suite provides a view of Saint-Roch Church from the front and a romantic view of the Parisian rooftops from within.
Stay longer and save in Paris with our special offer featuring 20% off our best available rate when you book three nights ore more. Includes complimentary Wi-Fi. Offer does not include breakfast. No deposit required at time of booking. Additional city taxes apply.
Reserve
Plan a "Romantic Escape" to Paris featuring buffet breakfast, a bottle of Champagne, macaroons, and a decorative rose petal heart on your bed, plus 15% off our best available rate.
Request Proposal
Find Things To Do In Paris, France
Things to do
Palais Garnier — Opéra National de Paris
Breathtakingly beautiful theater, with a 340-light, 8-ton bronze and crystal chandelier, and a ceiling painted by Marc Chagall.
Eiffel Tower
Take in exquisite views of the city, day or night, in this not-to-be-missed iconic experience and monument.
Louvre
Explore this former royal residence which now houses the world's largest art collections from ancient Egyptian and Roman antiquities to Renaissance art and beyond.