A Boutique Hotel in a Sweet quiet Neighborhood of Paris
L.E. Hotels
Paris is at your fingertips when you stay with us at Plaza Tour Eiffel, each room is delicately furnished with designer brands and is close to all the major attractions of Paris. Wake-up and enjoy breakfast downstairs before heading out for the day. Our staff is extremely knowledgeable, they enjoy helping our guests structure their day in the city. You'll be in the heart of shopping, dining and historical structures when you stay with us.
Address

32 Rue Greuze, 75116 Paris, France

Space

41 rooms and suites

Dining

Breakfast Room and In-room dining

Amenities

- 24-hour front desk
- Complimentary Wi-Fi
- Multilingual staff
- Babysitting services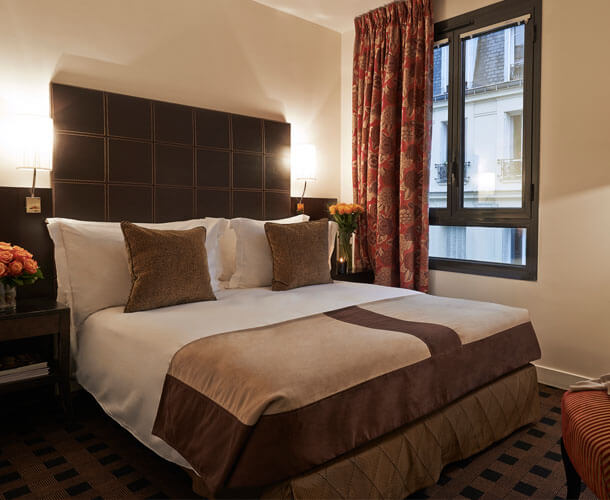 Boutique Luxury in Paris
Accommodations
Our rooms are designed with your comfort in mind, our contemporary decor and modern facilities make your Paris getaway one of a kind. Choose between a Superior Room, Deluxe Room or Junior Suite while you are here, some of our room even have a spectacular view of the Eiffel Tour.
Find Things To Do In Paris, France
Things to do
Palais Garnier — Opéra National de Paris
Breathtakingly beautiful theater, with a 340-light, 8-ton bronze and crystal chandelier, and a ceiling painted by Marc Chagall.
Eiffel Tower
Take in exquisite views of the city, day or night, in this not-to-be-missed iconic experience and monument.
Louvre
Explore this former royal residence which now houses the world's largest art collections from ancient Egyptian and Roman antiquities to Renaissance art and beyond.