Casual Sophistication in San Diego's Gaslamp District
L.E. Hotels
Mere steps away from the historic Gaslamp District and San Diego's waterfront, the Bristol Hotel provides a haven of luxury and tranquility. Many of San Diego's most popular attractions are just minutes from your front door. Whether you're traveling for leisure or business, our green, Eco-Leaf-Rated hotel offers charm, comfort, and convenience. We welcome families and their four-legged companions, and we hope your visit will be enhanced by our thoughtful amenities.
Address

1055 First Avenue, San Diego, California 92101

Space

114 rooms and suites, 5,000 sq ft of event space

Dining

First Avenue Bar & Grille, room service and complimentary continental breakfast

Amenities

- EV charging station
- In-room KEYPR tablets
- In-room iPod docking
- Valet parking (fee)
- Complimentary Wi-Fi

ADA Amenities

- Visual Fire Alarms
- Hearing-Impaired Kits Available
- View Full Policy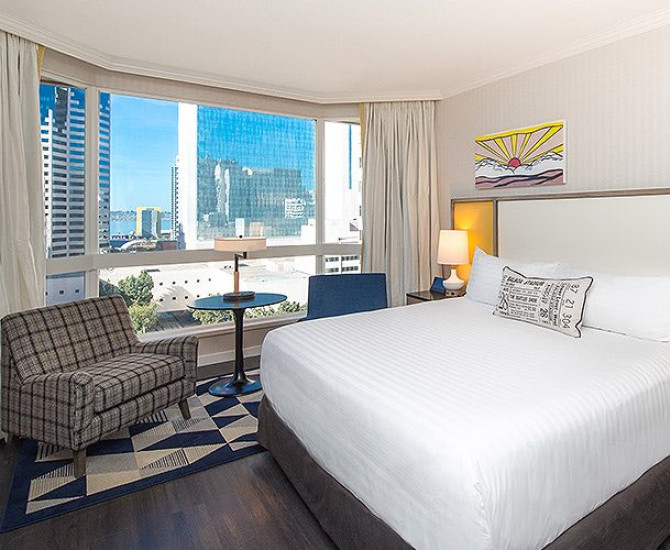 Charm and Comfort Meets the 1960s
Accommodations
Black, white, with colorful splashes of red — Pop Art rules here. Original works of Peter Max and Andy Warhol hang around the Bristol, offering inspiration for the hotel's décor. Room and suite selections range from cozy to uber-spacious, along with ADA-compliant accessible accommodations.
Boost Your Business at the Bristol
Meetings
2

rooms

5,000

sq ft of event space
Amenities:
Complimentary Wi-Fi
EV charging station
iPod docking stations
Valet parking (fee)
Custom catering
Group rates
High-speed internet
Great Escape Package
Offers
The "Great Escape" package includes two welcome drinks on arrival, nightly valet parking, and complimentary Wi-Fi. Valid through 12/31/2018. No minimum stay required. No deposit required at time of booking. Additional taxes and fees apply.
Reserve
Valet Parking Package
Offers
Save money with the hotel's "Valet Parking" package featuring free parking with unlimited in-and-out privileges.
Reserve
Find Things To Do In
Things to do
Better Stay, Better Business
An astute business traveler knows that the most convenient location for their stay is a top priority. When you select the Luxe Collection's Baolilai International Hotel, you don't just choose accommodations in the heart of Shenzhen, you hand-pick personalized luxury.
More Than the Comforts of Home
Your stay in San Francisco does not have to be all work and no play. When you choose the Luxe Collection's Creekside Inn, you are selecting a hand-picked California experience. Clean, quiet and above all else accommodating.
From the Boardroom to the Soundstage
Maximize the experience of your next business trip to North Hollywood by staying at The Garland. Part of the Luxe Collection, this hotel's unique location allows guests to visit some of the most iconic parts of Hollywood and take some time to themselves during their next conference.
Warm Weather Awaits
Whether you're looking to go near or far, the hotels of the Luxe Collection have the ideal spot for you and your family to escape the cold weather this winter. Offering premier locations in Miami's South Beach and between Coconut Grove and Miami, you are sure to warm up fast.
Five Travel Playlists, Compliments of Luxe
Behind many successful adventures, there is a playlist to thank for it. Not only is music a great way to add fun and alleviate stress, but it also sets the mood for any excursion. Whether it is to plug in those headphones and relax while soaring the skies or to sing along to on a long drive, here are the best playlists for traveling.
Best Destinations For Solo Travel
Recently, the trend of traveling solo has re-emerged as technology has enabled access to the world. Traveling solo is an exhilarating experience as the individual can explore the destination on their own terms and can make it a personal journey. Check out these five locations that are travel-solo friendly and are great way to dive into your next adventure!
Four Reasons Why Hotels Are Still Better Than Airbnb
Bed and Breakfast locations have become a new hot spot for travelers of all ages, however, with change comes compromise and we want you to know the full story of why hotels are often better than Airbnbs.
Business or Leisure? Bleisure travelers shouldn't have to choose.
With work/life balance becoming a growing trend, a new guest demographic has emerged -- the bleisure traveler.